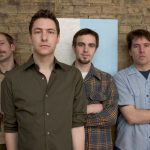 Dick Dale is considered one of the most influential guitarists of the 1960's.  Born in Massachusetts, his early musical talents ranged from drums to ukulele to trumpet and finally guitar.  Dale's early music included influences of Hank Williams and a Middle Eastern inflection for which he was credited with the use of exotic scales.  An amateur surfer, Dale was dubbed "The King of the Surf Guitar."
One of Dick Dale's most significant attributes was the fact that he was left-handed and forced to learn on a right-handed guitar.  Instead of restringing the guitar to make playing easier, he adapted to playing it "upside down" and "backwards." Dale was asked to test a new guitar design by Leo Fender, called the Fender Stratocaster.  Dale eventually outfitted the Stratocaster with heavy gauge strings to maximize his sound.  In addition, Fender gave Dale amps to use; however, Dale kept blowing the amps with his explosive playing style.  This inspired Leo Fender to create a 100-watt amplifier specifically for Dale, which would peak at 180-watts.  Dick Dale was truly a powerful player.
Backed by the Del-Tones in 1962, Dick Dale released his debut album called Surfers' Choice with Capitol Records.  This led to his television and film appearances.  In 1963, Dale released his second album titled King of the Surf Guitar, in honor of his nickname.  Then, in 1964, Beatlemania hit the States and surf rock music began to fade, and with it – Dick Dale. Dale was diagnosed with rectal cancer in the 60's, but recovered fully and went into retirement from music.  Then, in the late 70's, a pollution-related infection contracted after a surfing accident, brought about life changes for Dick Dale.  He put more emphasis on his health, became an environmentalist, endangered animals activist, and began performing again, which is where he felt he made the most difference.
In 1986, Dale resurfaced in the public eye when he along with Stevie Ray Vaughan was nominated for a Grammy for Best Rock Instrumental for Pipeline, which was part of the movie soundtrack for "Back to the Beach."  It wasn't until 1994 that he won a new audience when his 20+ year old Misirlou was used in the cult film "Pulp Fiction."  Dick Dale was back. Dick Dale went on to release three more albums, UnknownTerritory in 1994, Calling Up Spirits in 1996, and Spacial Disorientation in 2001.  In addition, his signature song Misirlou has been featured in the video game, Guitar Hero II for Playstation 2 and Xbox 360 game systems as well as the Wii game Rayman Raving Rabbids.
Dick Dale has continued to tour across the country and Europe over the last several years, often with his 15-year old son Jimmy, who has picked up his father's talent for guitar.  Jimmy has been dubbed "The Prince of Surf Guitar," which implies that he has some pretty big shoes to fill in order to match his father's talents over the last 4 decades.